I could die eating these and be happy. The fact that they are the easiest cookes ever to make just makes them that much better. I posted the recipe before here - but I just made them again this week and fell in love all over.

First, preheat your oven to 350°
(I somehow miss this step often and get to the point where I am ready to put things in the oven to bake before I realize it's not even on yet. It's awesome.)

For the cookies you'll need:
1 box of Devil's Food Cake Mix
2 eggs
3/4 c. shortening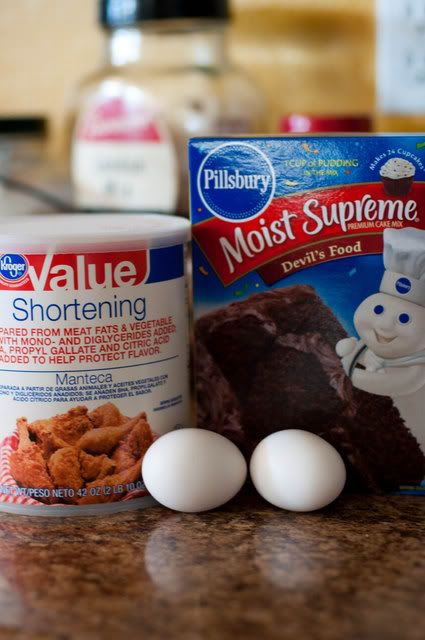 Go ahead and just throw all of those ingredients into a bowl and stir until combined
Then use a spoon (I used a teaspoon) to scoop out even portions of dough, roll them into balls and place on a cookie sheet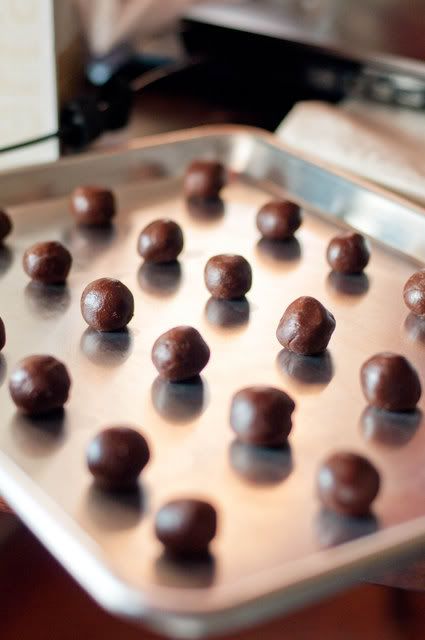 Then bake (in your already pre-heated oven) for 8 minutes. The cookies will pouf up and the tops will crack a little bit.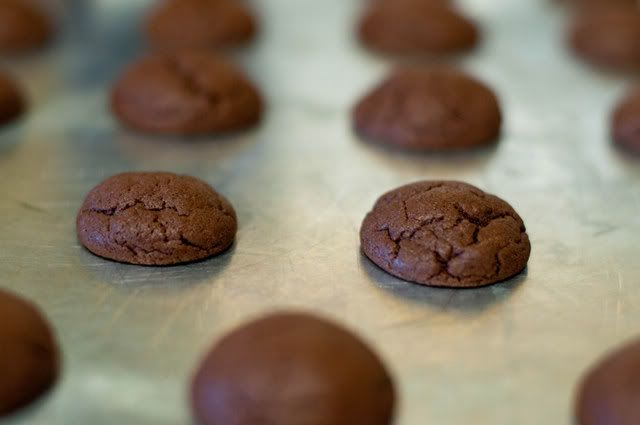 Since they're supposed to be oreos, I like to flatten the cookies out a little bit so they stack better once they become little sandwiches... Like so:
All you have to do is let them cool for a minute or so after you take them out of the oven then use the back of a spoon in a circular motion to
gently
flatten the tops a little...like so:
Next, while you let the cookies cool completely, you'll make the frosting. For the frosting (according to the recipe) you'll need:
1 8oz. pkg. Cream Cheese
1/2 stick of Butter
2 tsp. Vanilla
2-4 cups of powdered sugar

According to me you can half this recipe and have PLENTY. Just let the cream cheese and butter soften a little while on the counter, cream together and add the vanilla. Add powdered sugar 1 cup at a time until you get it to a consistency you like.



I'm sure you can figure the rest out on your own but just in case... once the cookies are cooled (completely) you simply slather some frosting on them and make them into little oreo sandwiches of perfection. If you're insane like me you will match up all of the cookies first into similarly sized pairs so you don't end up with lopsided cookie sandwiches.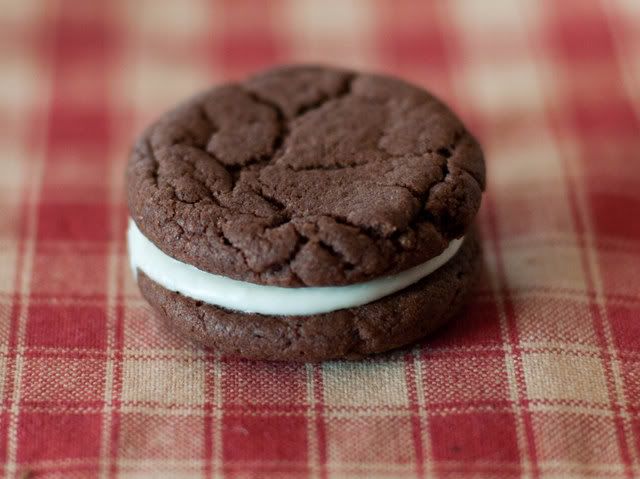 Finally, you EAT THEM.
But if you know what's good for you, you'll let them sit overnight. They are 10x better the next day. I promise. Also, since they're oreos, you're pretty much reqired to have them with milk.