Yet another recipe from my mom - this is one of Benson's new favorites. She made it for us one night and he hasn't stopped talking about it since. I made it for him Monday night and he profusely thanked me all night for being so nice to him.

Recipes don't get much easier than this!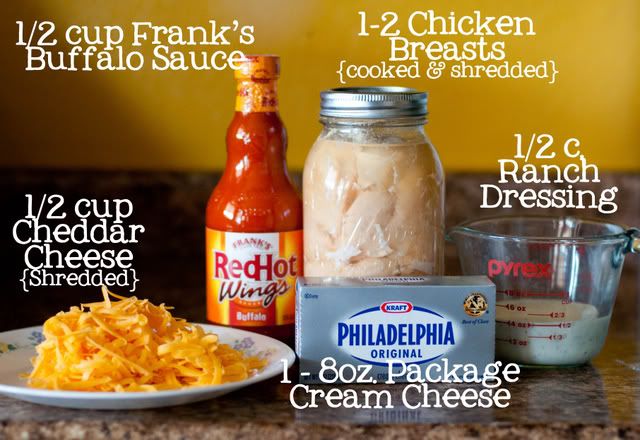 As you can see, I used canned chicken, which made it even easier since I didn't have to take the time to cook any of the chicken. After grating some cheese and measuring my liquids(so.hard.), I cut the cream cheese into cubes...
I layered the ingredients in a small baking dish. I did shredded chicken, hot sauce, ranch, shredded cheese, then cream cheese on top.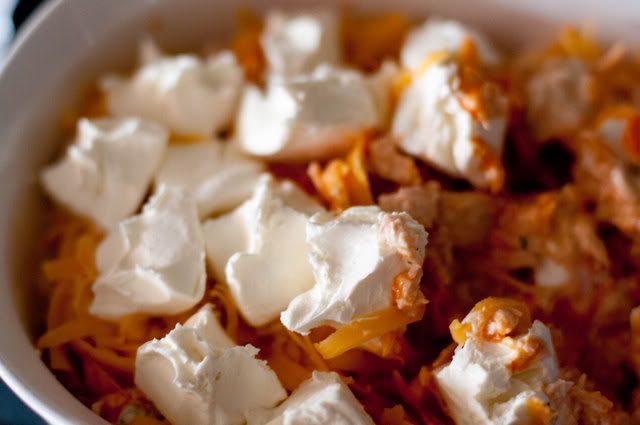 Once everything was in the dish I stirred it up a bit, covered it with a lid (my dish had a lid, you can use tinfoil) and baked for 30 minutes at 350° until it's all warm and melty. Give it a good stir then serve it warm with corn chips! We also had veggies with ranch on the side. Mmmmm