It's no secret I love Disneyland. I grew up going every summer. We were lucky to have a hookup which allowed my family, and 15 of our closest friends, to stay at the Disneyland hotel (all in one room mind you) for free. I have so many fun memories of sleeping in every nook and cranny of the room and spending all day either at the park or swimming in the hotel pools and drinking strawberry daquris by the pool. To me, going to Disneyland is like returning to the magic of my childhood. I love going and it would take a lot for me to get tired of it.
Benson, however, does not share this love. He didn't grow up going like I did so he has no sentimental attachment. He also hates crowds and thinks it's way overpriced (which, let's be honest, it totally is). This isn't to say he doesn't have a fun or enjoyable time - he just doesn't have the same excitement about it that I do.
Shortly after we were married we received a Disney gift card. I saw this as a perfect opportunity to make our first visit to the happiest place on earth together. Benson wasn't as easily swayed - so I took it upon myself to show him what a great idea it was...
...by making a powerpoint presentation.
I just found a copy if it the other night and laughed out loud at my ridiculousness, and decided I had to share it so you can all understand just how important Disneyland truly is.
Without further ado - I present to you "Our Disneyland Vacation" otherwise entitled "How to convince your husband you need a trip to Disneyland"
Tip #1 - Make it cute. Even the toughest men soften a little at that cheesy Mickey Mouse Smile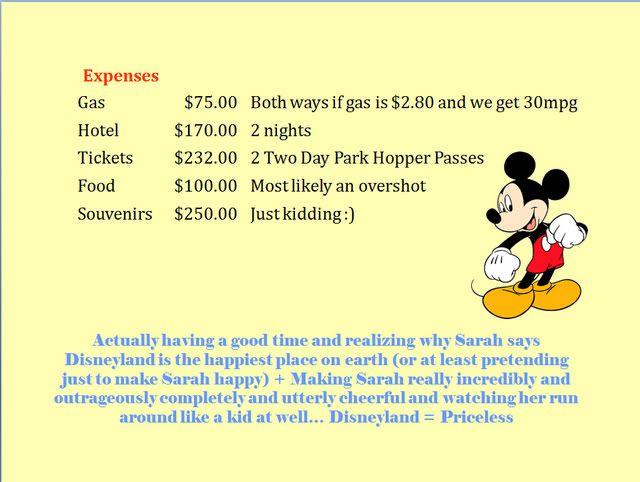 Tip #2 - Give them the details up front. Let them see the bottom line, and that you have done your research - they'll take it more seriously. Throwing in a reminder of how happy it will make you is always encouraged to soften the blow of the cold hard facts of the expense.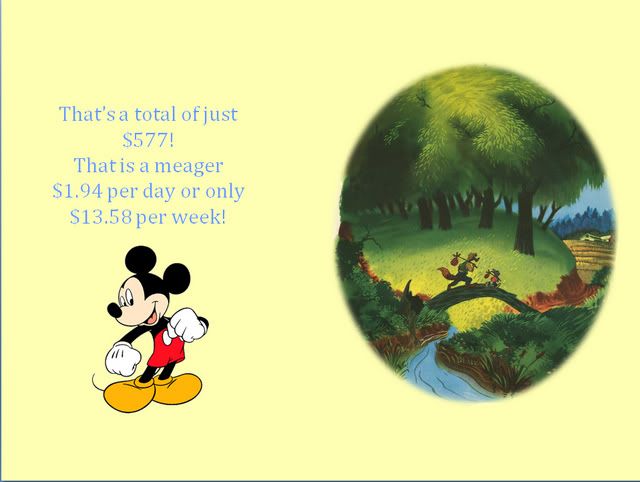 Tip #3 - Put it into perspective. Yes it may
seem
like a lot to spend...but it's
only
$1.94 per day!
Tip #4 - Get desperate. Just in case they are not budging on the budget, throw in some reasoning so pathetic they can't help but pity you for the effort, or laugh at your attempt which will soften their mood.
(This is where I really laugh at myself. I shamelessly stole the wording for this slide from one of those "for only 5 cents a day you can change this child's life" sites which allow you to sponsor needy children in third world countries and just changed it to my name/information at certain parts. I chose to leave the grammatical errors from the site to preserve the authenticity. If you can't read the small text this is what it says:
"
Sarah Beasley is a poor young girl who lives in the Central Gilbert province. Her nickname is Sarah and she is American. She lives with her parents (currently), and a younger brother in a simple house; it is cement floor only, the walls made from wood and bamboo, has courrugated metal roof and the situation is bad. To support their needs, her father makes a living as a daily laborer, his income in annual only around US $300.00. Unfortunately, his income is insufficient to provide the family needs properly. She has not attended any school yet; but her health condition is fair. To help this young girl enjoy her childhood and receive adequate guidance; we are pleased to welcome her joining our group. She likes playing with her best friend Benson. Your kind sponsorship will be a great deal for this unfortunate child; she will meet proper childcare and grow up healthy to achieve a bright future if you take her to Disneyland

.
"
)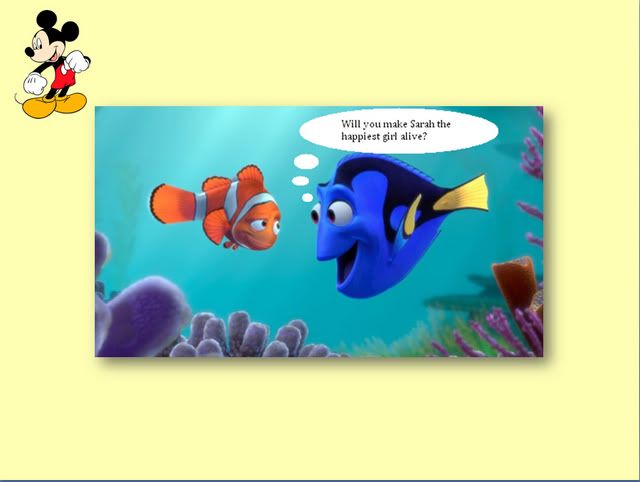 Tip #5 - Go for the cute, happiness plug. Let them know
they
have the ability to make you the happiest.person.alive.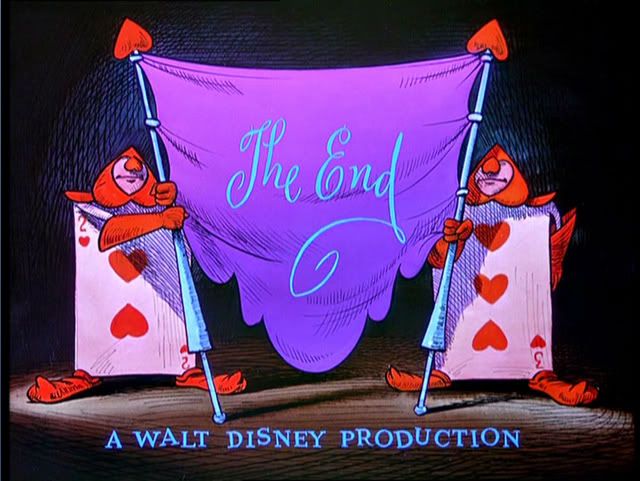 is how it's done.
-------------------------
Benson was very sweet and obliged my childhood fantasy and took me to Disneyland that year.
We're going again Monday & Tuesday - I can't wait!