Everyone's favorite part about Greer has to be the completely un-safe fun things they have to play on. For years and years they had a zip-line that began in a rickety old tree-house where you boarded a small porch swing chained to a cable by walking on a 1ft. ledge between you and a 20ft. drop into blackberry bushes. When released, you'd zip across a road and an open meadow to a platform with a ladder down to the ground - only the platform was 7+ feet below the seat so you had to jump making sure you had good aim while ducking your head out of the way of the seat that recoiled from loss of weight. This year the treehouse was dis-assembled and the cable had been cut and we were all sad to see the end of our favorite ride.
However, we still had the Merry-Go-Round and the tree swing.
The Merry-Go-Round is a truck axle mounted in concrete on a hill connected to some 2x4's with wooden seats on either end and painted red just for fun. There are no handles or seatbelts, you just grab whatever you can and hold on for dear life. All you need is a little push to get enough momentum to go around several times - but the better the push the faster, and scarier, the ride gets. This was quite possibly Abby's favorite part of the whole trip.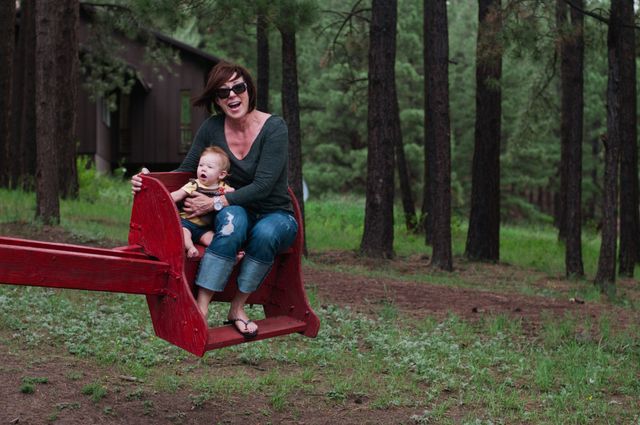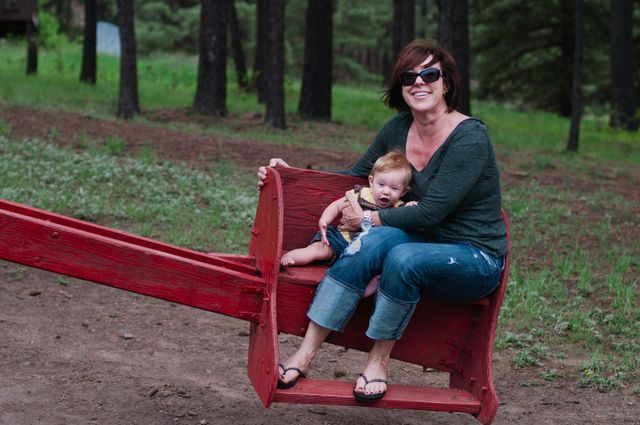 The tree swing is not even a swing at all. It was at one time of course, but now it's just a rope with a loop on the end to fit around your arm. The tree it hangs from is, again, on the side of a hill which allows you to start at the highest point, run toward the lower point and jump as the ground slopes downward which sends you soaring into the air. Dislocationg your shoulder is probably a serious possibility - but that doesn't stop any of us.
Ironically enough the only injury sustained the entire 24+ years we have been going to Greer were at the hands of a run of the mill teeter-todder.