Day 12

When we woke up in the morning it was cool and rainy. As we drove toward the falls you could see what looked like billowing smoke meeting the clouds in the sky. As we got closer we realized it was just the mist from the falls, which we were able to see from miles away since it was so humid that day.
Most of the pictures are pretty foggy looking since it poured most of the time we were there but we really enjoyed the break from the heat that we had been enduring!
Benson and I had both been to the falls before and gone on the "Maid of the Mist" tour, but had heard from friends that the "
Cave of the winds
" was a far better way to see the falls. So, he and I took a couple of the bigger kids to do that rather than the boat ride - we were so not disappointed!! The cave of the winds was INCREDIBLE! If you ever go to Niagara - you HAVE to see it this way. Trust me. If you feel like you need to do Maid of the Mist then do both, you won't be disappointed.
As a bonus to the poncho you get when you do cave of the winds you also get these bad boys: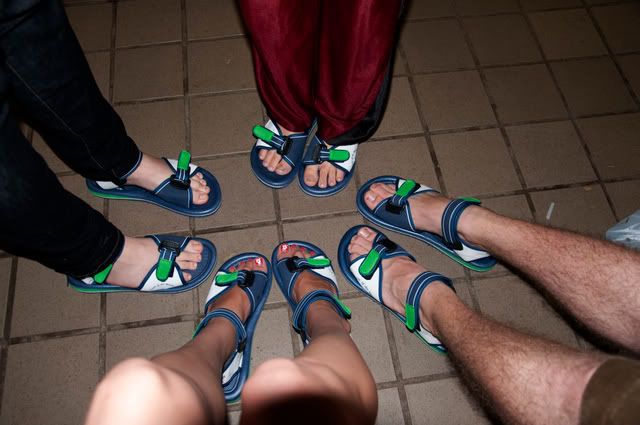 If that doesn't convince you, I don't know what will!
As I am sure you can imagine we got SOAKED, which also meant there was NO way the camera was coming out of the bag without it being drenched (bummer) but it was totally worth it. I can honestly say it was one of the coolest things I have ever done!
When we were done with the falls we drove over to Rochester to check into our hotel and still had time to attend the Hill Cumorah pageant that night which was really fun! I hadn't seen it in about 12 years and it's changed a lot, it was like seeing a whole new show.